By Mackenzie Burns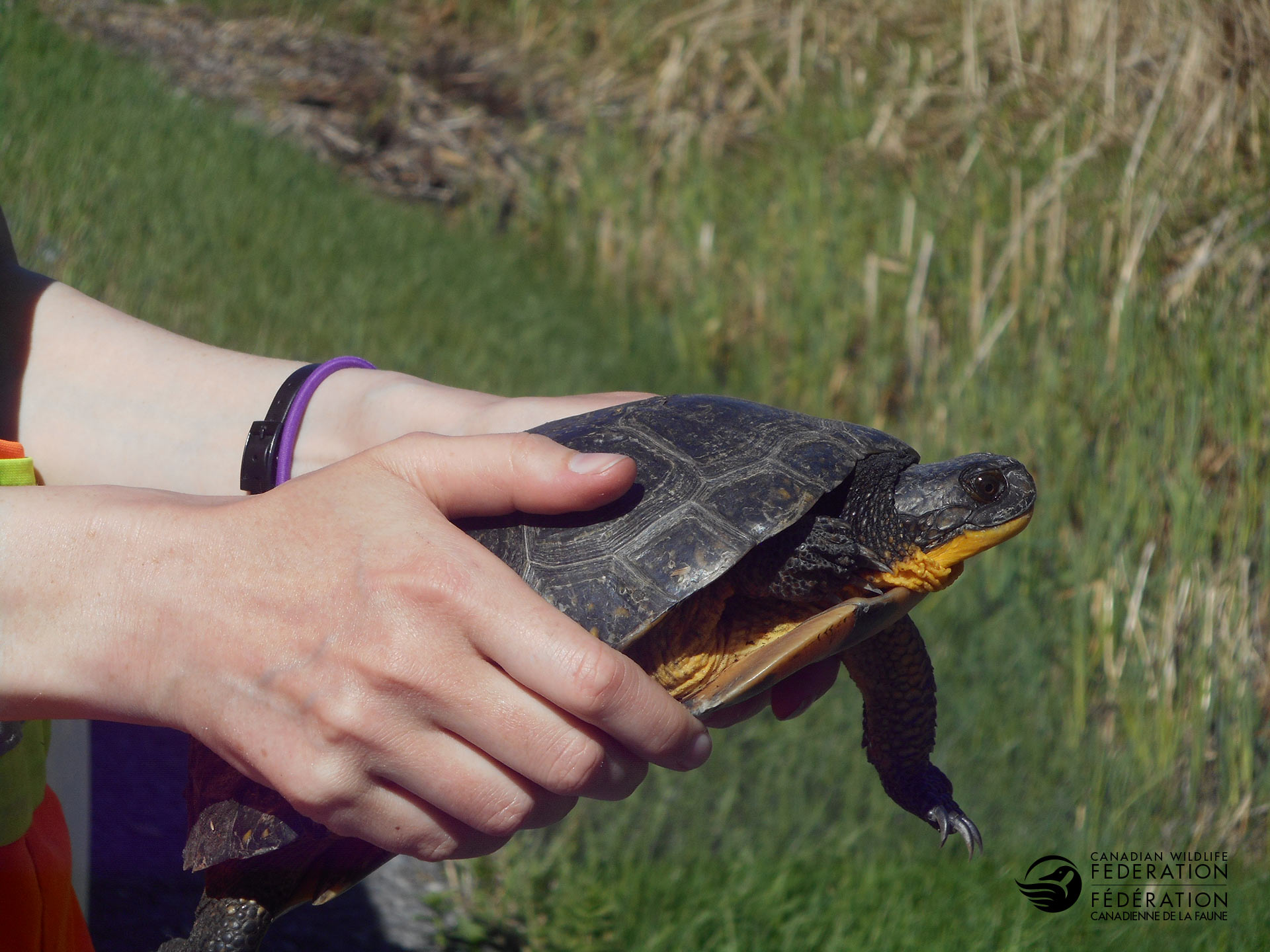 Spring is here once again, and when things start to return to a sense of normalcy, you may find yourself driving more.
Similarly, many creatures are also starting to travel in the spring. Among these are the turtles that are frequently seen on the road this time of year.
Turtles are at risk on roads for many reasons.
They are slow moving.
Their reflex when in danger is to hide in their shell.
They have a bad habit of nesting on unpaved road shoulders, putting expectant mothers and hatchlings at risk.
They move from one wetland to another over the season. In fact, one Blanding's Turtle can make use of half a dozen different wetlands over the spring and summer.
Overall, road mortality is a major factor in declining freshwater turtle populations.

One of the Most Endangered Groups of Animals in Canada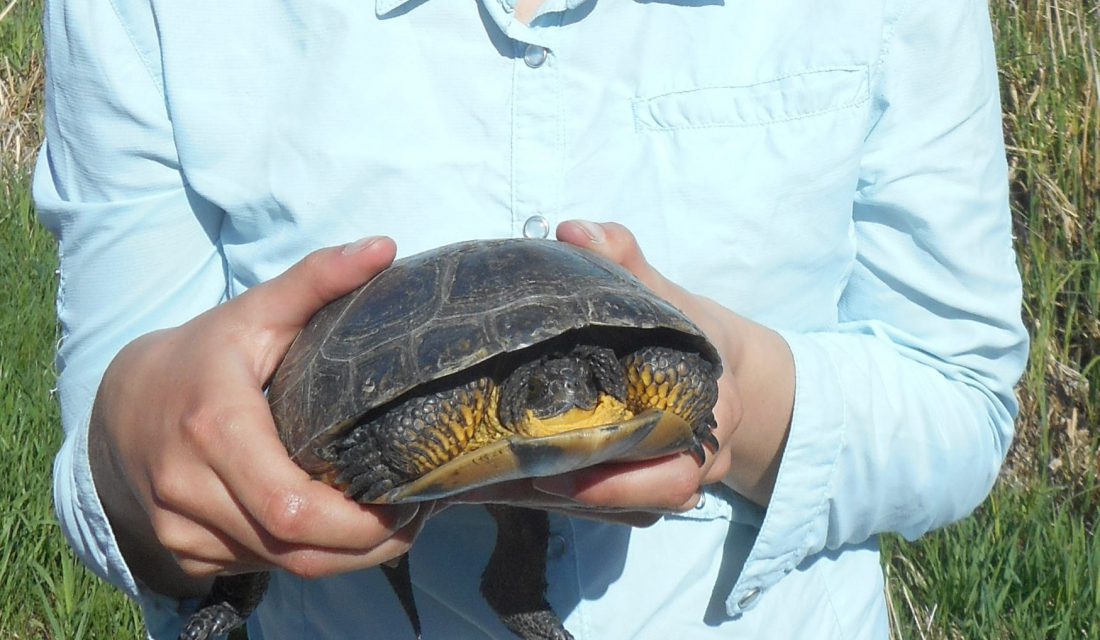 How to safely carry a turtle across the road.
Turtles are of particular concern to us here at the Canadian Wildlife Federation since all eight species in Canada are listed as species at risk. This makes them one of the most endangered groups of animals in Canada. Part of this is because turtles do not handle many new threats brought on by human interactions very well. After all, this group of animals has remained relatively unchanged from the time of the dinosaurs.
We can all do our part to help the turtles:
Please slow down around wetlands!
If it is safe to do so, help any turtles you find on the road. Pull completely off the road onto the road shoulder and put on your vehicle's four-way flashers. Do not enter the roadway if it is not safe to do so.
We encourage you to submit any turtle sightings to iNaturalist.ca, in particular two projects: Help the Turtles and Canadian Amphibians and Reptiles on Roads.
Many turtles found crossing the road are females looking for places to lay their eggs. Pulling over for a turtle may be a small act, but taking a few extra minutes to help a turtle safely reach the other side of the road will very likely save its life and may help future generations.
Les tortues reprendre la route
Par Mackenzie Burns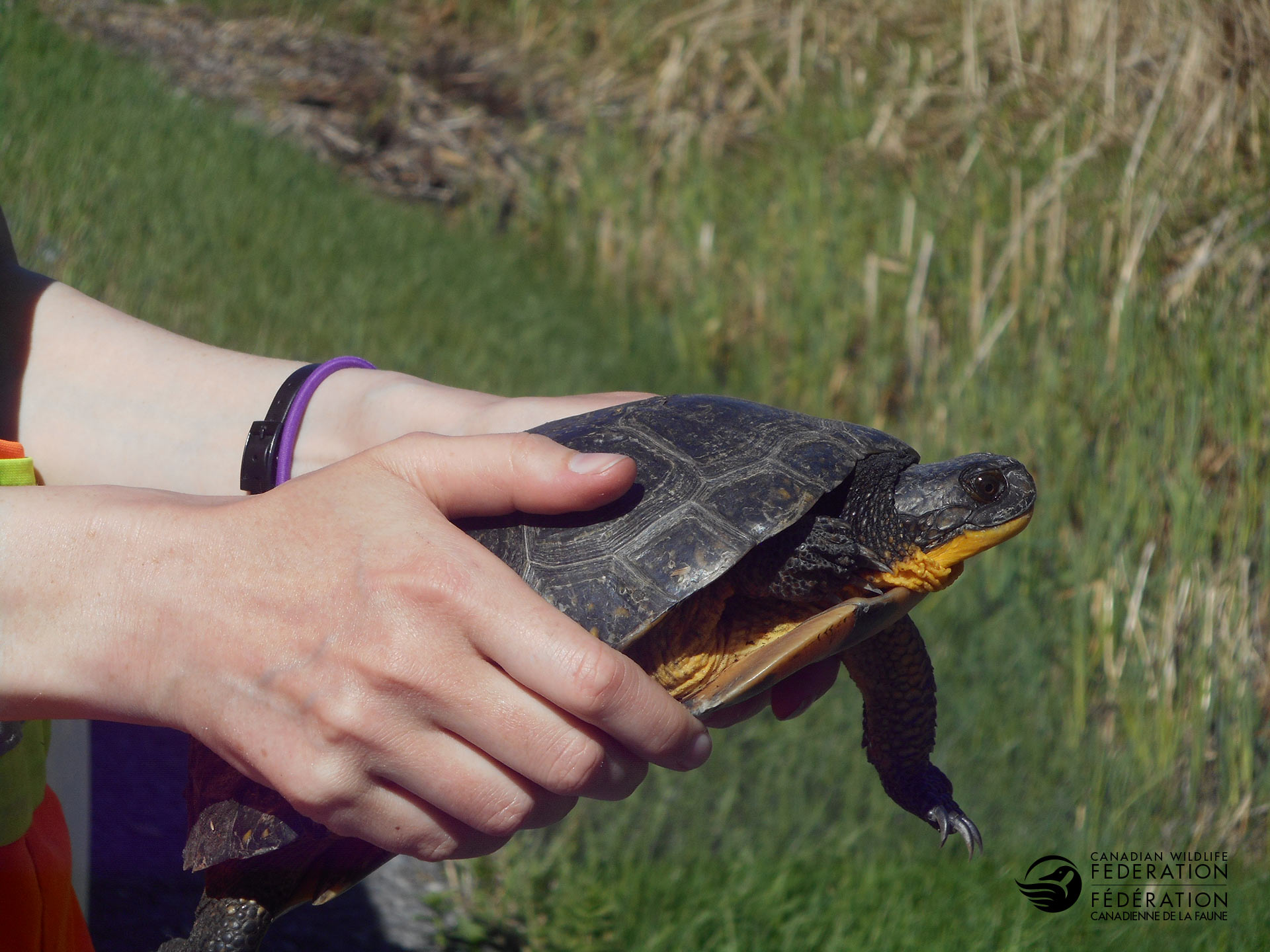 Le printemps est de retour et, lorsque le monde retournera un peu plus à la normale, il se pourrait que vous vous trouviez davantage sur la route.
De façon similaire, de nombreuses créatures commencent à se déplacer au printemps. Parmi celles-ci, on peut compter les tortues qu'on retrouve fréquemment sur la chaussée durant cette période de l'année.
Les tortues sur la chaussée sont à risque pour plusieurs raisons :
Elles se déplacent lentement.
Elles se cachent par réflexe dans leur carapace lorsqu'elles sont en danger.
Elles ont la mauvaise habitude de construire leur nid sur des accotements non pavés, mettant ainsi à risque la maman et les jeunes tortues.
Elles se déplacent d'une terre humide à l'autre durant la saison. En effet, la tortue mouchetée peut utiliser une demi-douzaine de terres humides au courant du printemps et de l'été.
Dans l'ensemble, la mortalité sur les routes est une des causes principales du déclin des populations de tortues d'eau douce.
Les tortues sont un des groupes d'animaux les plus menacés du Canada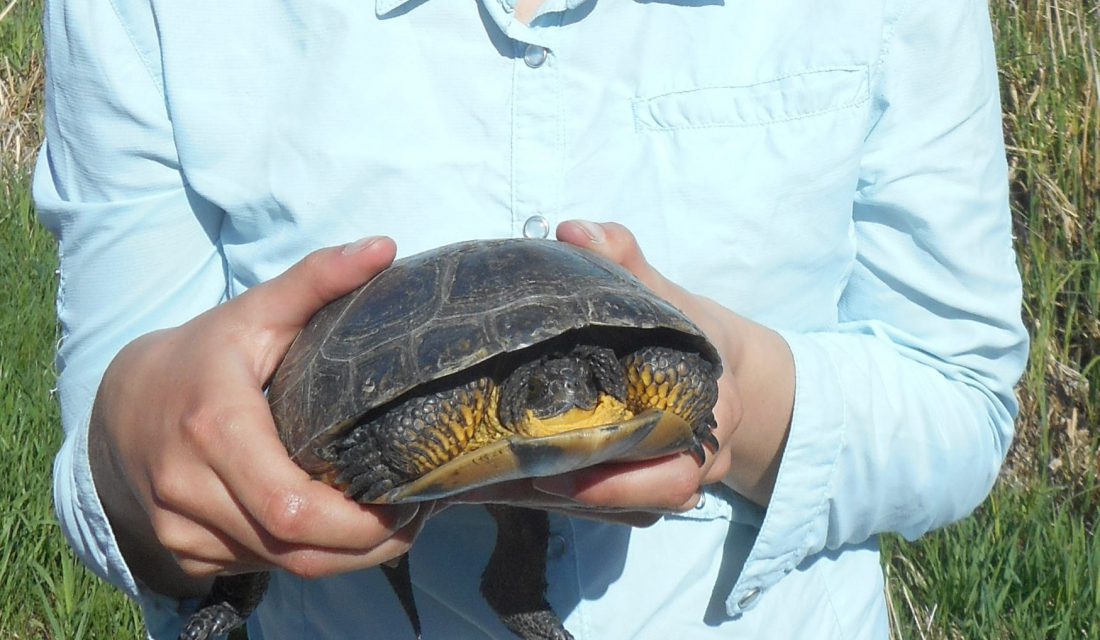 Façon sécuritaire d'aider une tortue à traverser la chaussée.
Les tortues nous préoccupent particulièrement ici, à la Fédération canadienne de la faune, car toutes les huit espèces canadiennes sont inscrites sur la liste des espèces en péril. Il s'agit donc d'un des groupes d'animaux les plus menacés du Canada. Une des raisons qui explique cette situation, c'est que les tortues ne sont pas bien équipées pour gérer les nouvelles menaces causées par les humains. Après tout, ce groupe d'animaux demeure relativement inchangé depuis l'aire des dinosaures.
Nous pouvons tous faire notre part pour aider les tortue:
Ralentissez près des terres humides!
Si c'est sécuritaire de le faire, aidez les tortues que vous trouvez sur la chaussée. Garez votre voiture sur l'accotement et mettez vos clignotants d'urgence. Accédez à la chaussée que si c'est sécuritaire de le faire.
Nous vous encourageons aussi à soumettre vos observations de tortues dans deux projets particuliers d'iNaturalist.ca : Aidons les tortues et Canadian Amphibians and Reptiles on Roads.
De nombreuses tortues qui traversent la chaussée sont des femelles à la recherche d'un endroit pour pondre leurs œufs. Le fait de s'arrêter pour aider une tortue sur la chaussée peut sembler un petit geste, mais les quelques minutes requises pour veiller au déplacement sécuritaire de cet animal peuvent lui sauver la vie et assurer la survie des générations futures.