By David DeRocco, CWF Events and Marketing Manager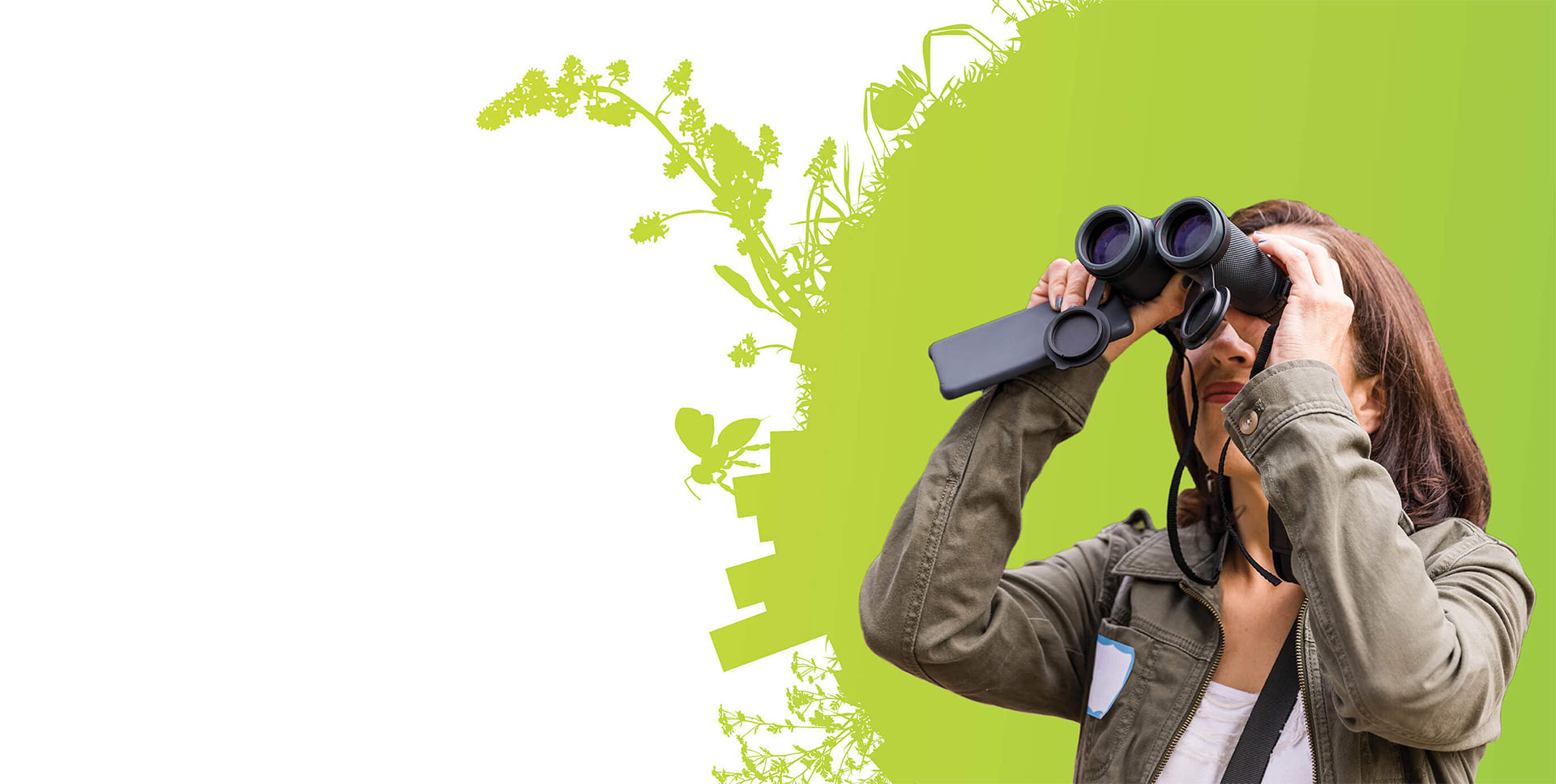 Canada is set to take on the world April 29 through May 2!
No, it's not World Cup soccer – it's the 2022 City Nature Challenge! And unlike the World Cup, you don't have to have mad soccer skills to actually contribute. All you need is a camera or mobile device and access to
iNaturalist.ca
.
The City Nature Challenge is a friendly annual international challenge to see which city can record and upload the most observations of wildlife species using the free iNaturalist platform. From the tiniest bug to the tallest tree, from belugas to birds to beavers, participants are encouraged to take pictures of all the flora and fauna they can find. By doing so, they're contributing to an international database used to track biodiversity around the world. It's a great way to turn a simple walk in the woods into truly impactful "citizen science" activity.

Who's Participating?
This year 42 Canadian cities are registered as part of the City Nature Challenge Canada collective, as participants across the country band together to compete against hundreds of cities in over 40 countries around the world. From as far west as Nanaimo to as far north as Yellowknife to as far east as St. John's, City Nature Challenge participants will be contributing to Canada's total observations.
Last year City Nature Challenge participants made over 1.2 million observations world-wide, finding over 45,000 different species of wildlife. In Canada, over 30,000 observations were made – not bad for a country that's still covered in snow in some parts during the month of April!

How to Participate?
It's easy to participate as part of Team Canada. Simply log into the platform at iNaturalist.ca (make sure you check your account settings are set to .ca rather than .org to ensure you're part of the Canadian platform. To do so,
edit your settings
).
Head to the City Nature Canada 2022 project to see if your city is taking part in the City Nature Challenge. Any observations you make in a participating city and upload through the iNaturalist app or at iNaturalist.ca from April 29 through May 2 will be instantly added to the total. If your city is not participating, you can still make observations. If you have any expertise with individual species, you can also log in to verify species observations made by other people. You'll become part of an active iNaturalist community dedicated to tracking biodiversity all year long.
Check back in on the CityNatureCanada 2022 project on May 9 to see which city is crowned the CNC champion of Canada. And visit the global project for the collective results and how we stacked up against the world.
The City Nature Challenge is just the first major event on a year-long calendar of activities where iNaturalist can play an important role in connecting Canadians to nature. Open your account today, and get familiar with the app. There are many instructional videos in English and French that can help you become a master at using iNaturalist. Who knows – you could find a rare species, an invasive species, or a species you didn't even know was native to your area. That's the fun of using iNaturalist. So join the team representing Canada during the City Nature Challenge. Let's show the world that Canada's wildlife is as abundant as ever.

Équipe Canada relève le défi ce printemps!
Par David DeRocco
Le Canada se mesurera au monde du 29 avril au 2 mai!
Non, il ne s'agit pas de la Coupe du monde de soccer, mais bien du Défi nature urbaine 2022! Et, contrairement à la Coupe du monde, pas besoin d'avoir un talent exceptionnel au soccer pour y participer. Vous n'avez besoin que d'un appareil photo ou d'un téléphone intelligent et d'un accès la plateforme iNaturalist.ca.
Le Défi nature urbaine se veut une compétition amicale annuelle entre les villes du pays et entre les pays du monde dont le gagnant est celui qui réussit à enregistrer et à télécharger le plus grand nombre d'observations d'espèces sauvages à l'aide de l'application gratuite iNaturalist. Qu'ils observent la plus petite bestiole ou le plus grand arbre, des bélugas aux oiseaux en passant par les castors, les participants sont encouragés à photographier toute la faune et la flore qu'ils peuvent trouver. Ce faisant, ils contribuent à une base de données internationale qui sert à un suivi de la biodiversité partout dans le monde. C'est un excellent moyen de transformer une simple promenade dans le parc en une activité de « science citoyenne » importante.
Qui participe?
Cette année, 42 villes canadiennes sont inscrites dans le cadre du collectif Défi nature urbaine Canada, alors que des participants de tout le pays se mettent ensemble pour compétitionner contre des centaines de villes dans 40 pays du monde. D'aussi loin dans l'ouest que Nanaimo ou que Yellowknife dans le nord, et jusqu'à St. John's, les participants au Défi nature urbaine contribueront au total des observations canadiennes.
L'an dernier, les participants au Défi nature urbaine mondial ont relevé plus de 1,2 million d'observations décelant plus de 45 000 différentes espèces sauvages. Le Canada compte 30 000 observations; pas mal pour un pays encore partiellement couvert de neige en avril!
Comment participer?
C'est facile de faire partie d'Équipe Canada. Il suffit d'ouvrir une session sur la plateforme iNaturalist.ca (assurez-vous de vérifier que votre profil est réglé à .ca et non .org pour être certain de faire partie de la plateforme canadienne. Pour ce faire, modifiez vos réglages).
Dirigez-vous vers Défi nature urbaine 2022 pour voir si votre ville participe à la compétition. Toutes les observations que vous faites dans une ville participante et que vous téléchargez à l'aide de l'application iNaturalist.ca du 29 avril au 2 mai seront instantanément ajoutées au total. Si votre ville ne participe pas, vous pouvez toujours faire des observations. Si vous connaissez une espèce en particulier, vous pouvez ouvrir une session pour vérifier les observations de cette espèce faites par d'autres personnes. Vous deviendrez membre d'une communauté iNaturalist consacrée au suivi de la biodiversité pendant toute l'année.
Le 9 mai, retournez au site Défi nature urbaine Canada pour voir quelle ville est déclarée championne du Canada. Puis, visitez le projet mondial pour obtenir les résultats collectifs et savoir à quel rang nous figurons dans le monde.
Le Défi nature urbaine n'est que la première d'une longue suite d'activités prévues toute l'année où iNaturalist peut jouer un rôle important pour rapprocher les Canadiens de la nature. Ouvrez un compte dès aujourd'hui et familiarisez-vous avec l'application. Vous y trouverez de nombreux tutoriels vidéo en français comme en anglais qui peuvent vous aider à maîtriser l'application iNaturalist. Qui sait – peut-être trouverez-vous une espèce rare, une espèce envahissante ou une espèce dont vous ignoriez l'existence dans votre région? C'est ce qui rend l'application iNaturalist si amusante. Alors, joignez-vous à Équipe Canada pour le Défi nature urbaine. Montrons au reste du monde la richesse de la faune canadienne.
Posted by

cwf_tobi
, April 25, 2022 15:42