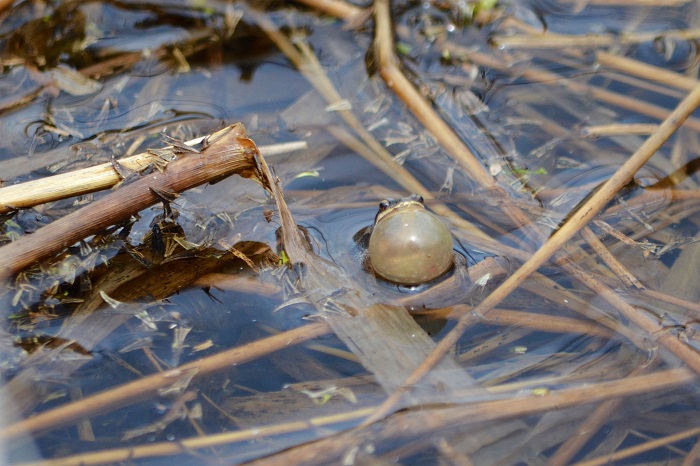 Photo: Annie Langlois | hww.ca
Frogs will soon be calling, and we are calling on YOU!
With the start of spring, western chorus frogs (WCF) will soon start calling from their breeding wetlands within southwestern Ontario! For the past three years, Blazing Star Environmental has partnered with Canadian Wildlife Service and Trent University to create a volunteer-based, long-term, range-wide monitoring program for the WCF in Ontario. The program launched in 2020 and we are excited to announce that it will be running again in spring 2021!
Surveying for WCF poses challenges because the range is large, and the calling season is short. While Blazing Star Environmental is determined, our team is small. The success of this program depends on the participation of passionate volunteers across the Ontario range of the WCF. In 2020 the program's dedicated volunteers detected WCF at 291 locations, and we hope to find even more this year! We have recruited hundreds of volunteers to conduct surveys across the range. However, we are currently lacking volunteers in the northern extent of their range (see map below).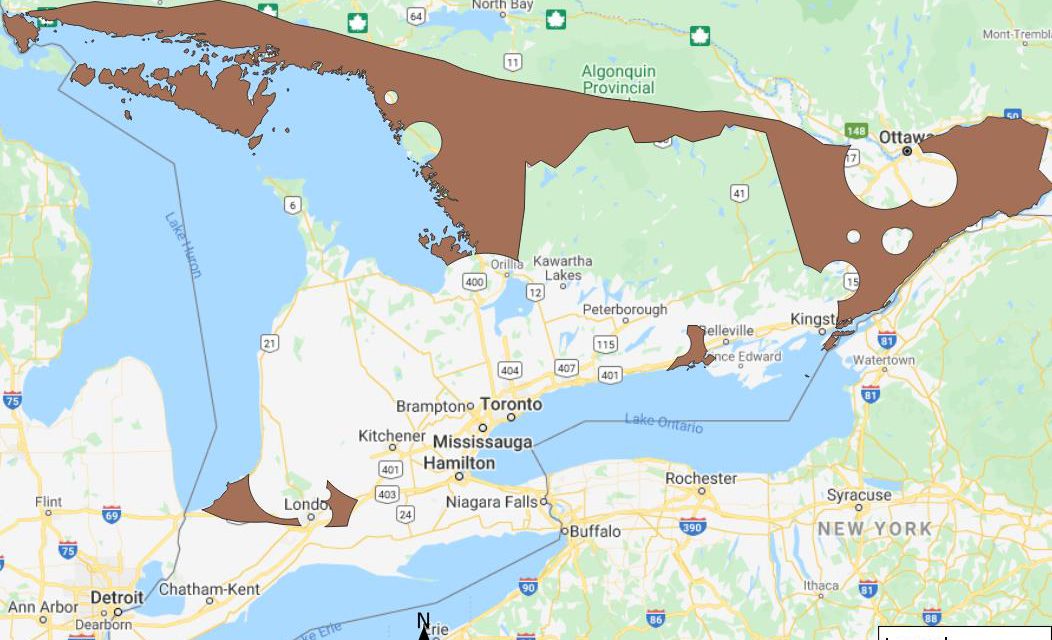 The brown shading indicates areas where additional surveyors are required for the new long-term western chorus frog monitoring program.
Volunteers need only choose the number of sites they wish to survey, the distance they are willing to travel, and to conduct 5-minute auditory surveys 3 times during the calling period (March – early June). If you are located in the program gap areas, Blazing Star Environmental invites you to join the chorus this spring by volunteering with the WCF long-term monitoring program! For more information about volunteering with the program including important COVID-19 measures email info@blazingstar.ca
À la recherche de bénévoles pour surveiller la limite septentrionale de l'aire de répartition de la rainette faux-grillon de l'Ouest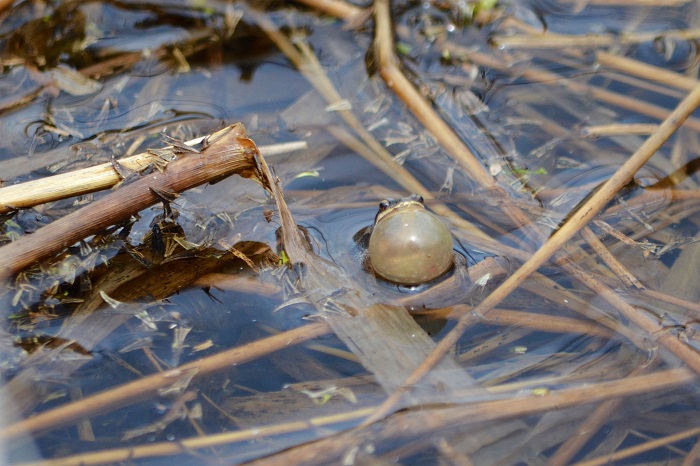 Photo : Annie Langlois | ffdp.ca
La rainette faux-grillon de l'Ouest fera bientôt son apparition – nous avons besoin de VOUS!
Avec l'arrivée du printemps, nous entendrons bientôt le chant de la rainette faux-grillon de l'Ouest dans ses terres humides de reproductions du sud-ouest de l'Ontario. Au cours des trois dernières années, Blazing Star Environmental, le Service canadien de la faune et l'Université Trent ont uni leurs efforts pour mettre sur pied un programme de surveillance bénévole à long terme de la rainette faux-grillon de l'Ouest en Ontario. Le programme a vu le jour en 2020, et nous sommes heureux d'annoncer qu'il sera de retour au printemps de 2021!
L'évaluation des populations de rainettes faux-grillons de l'Ouest pose problème, car leur répartition est vaste et la période de chant de cet amphibien est courte. Bien que l'équipe de Blazing Star Environmental soit déterminée, elle est petite. Le succès du programme dépend de la participation de bénévoles passionnés sur l'ensemble de l'aire de répartition de cette grenouille en Ontario. En 2020, les bénévoles ont trouvé des rainettes faux-grillon de l'Ouest dans 291 endroits, et nous espérons en trouver encore plus cette année! Nous avons recruté des centaines de bénévoles pour mener des enquêtes un peu partout, mais il nous manque encore des bénévoles situés à la limite septentrionale de l'aire de répartition indiquée sur la carte ci-dessous.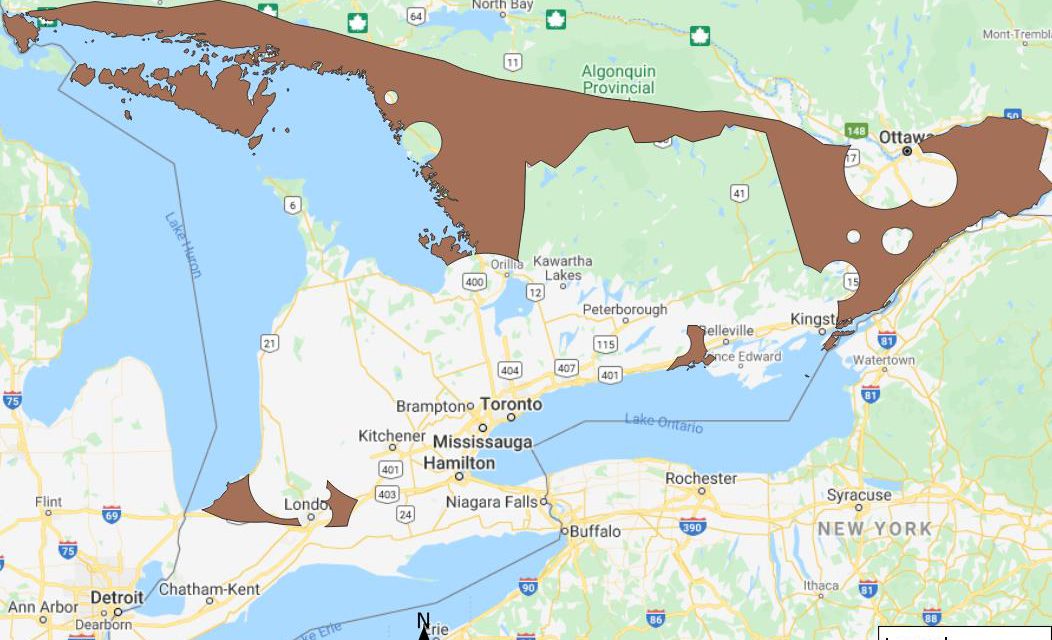 Les parties brunes représentent les régions où nous avons besoin d'évaluateurs additionnels pour le programme de surveillance à long terme de la rainette faux-grillon de l'Ouest.
Il revient aux bénévoles de choisir le nombre de sites qu'ils souhaitent surveiller et la distance qu'ils souhaitent parcourir. Ils doivent ensuite mener une enquête de 5 minutes à trois différentes occasions durant la période de chant nuptial (du mois de mars au début de juin). Si vous êtes situé dans une des régions où il manque des bénévoles, Blazing Star Environmental vous invite à vous joindre à notre équipe ce printemps. Pour obtenir de plus amples renseignements, y compris les consignes de sécurité relatives à la COVID-19, envoyez un courriel à info@blazingstar.ca.
Posted on
March 04, 2021 10:06 PM
by

cwf_tobi